The 2023 Subaru Love Promise Community Commitment Award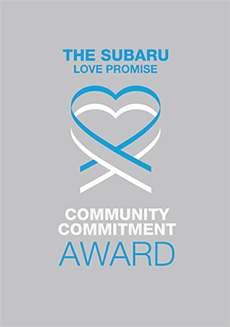 We've been nationally recognized for our dedication to our community and the Subaru Love Promise.
We're honored to receive the 2023 Subaru Love Promise Community Commitment Award. This award nationally recognizes Subaru retailers who are making the world a better place while demonstrating an outstanding commitment to supporting passions and causes in local communities. These efforts are focused in important areas such as the environment, community, health, education, and pets.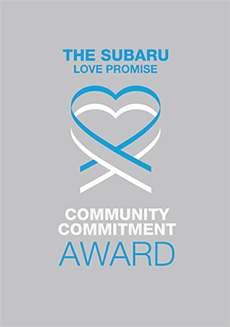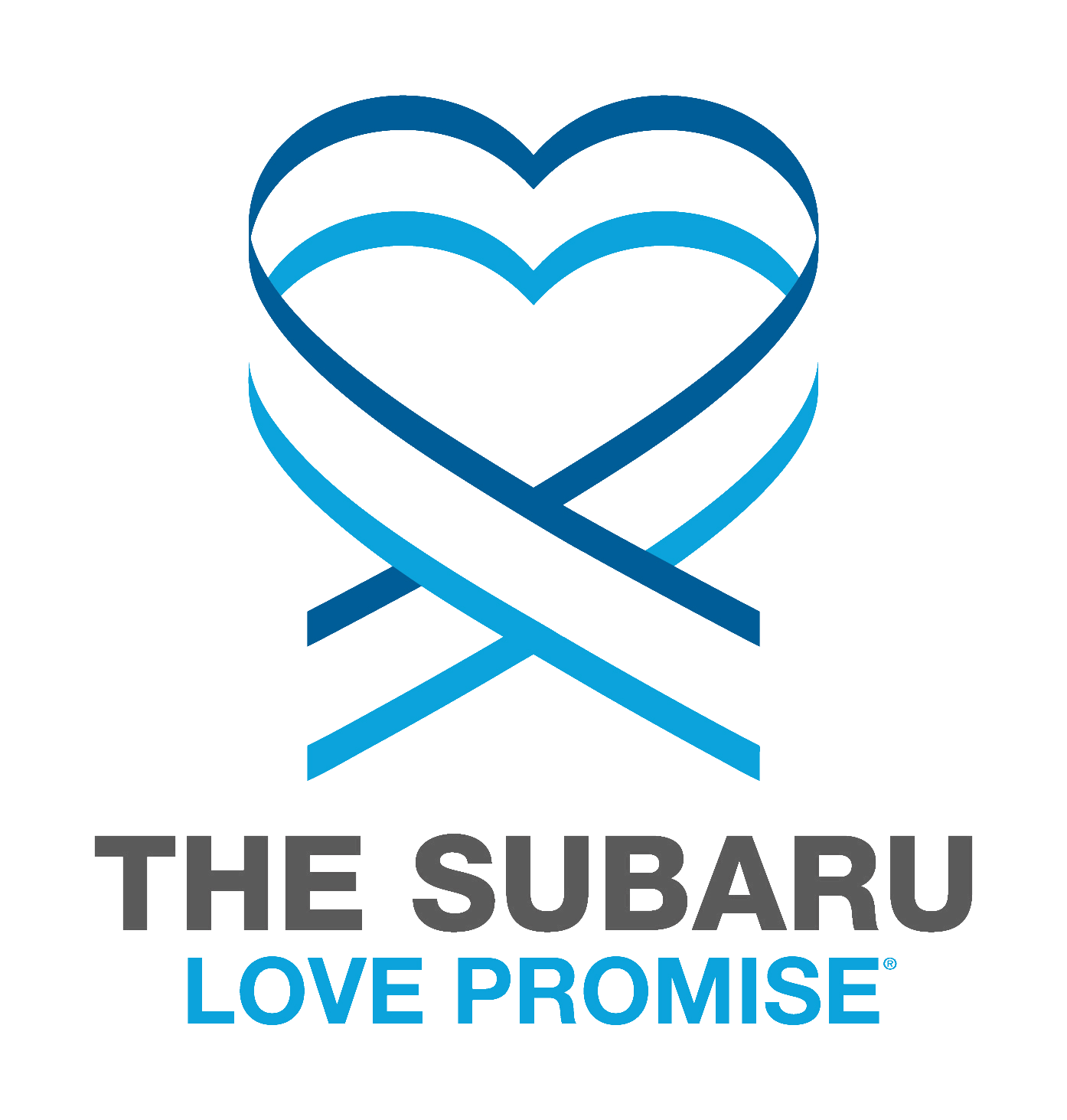 What is the Subaru Love Promise?
Subaru and our retailers believe in making the world a better place and the Subaru Love Promise is our vision of respecting all people. This is our commitment to show love and respect to our customers and to work to make a positive impact in the world.
How is Chatham Parkway Subaru dedicated locally to the Love Promise?
Our Love Promise can be seen in various partnerships with local charities and non-profits. We're grateful for the opportunity, not only to be a part of our community, but to serve it as well.
Old Savannah Union Mission
The Leukemia & Lymphoma Society
Love Promise Stories from Chatham Parkway Subaru
Subaru and Chatham Parkway Subaru believe in making a positive impact on the communities in which we live and work. We uphold that belief through our Love Promise Community Commitment. Every month, we select inspiring stories from customers and partners from around our area who strive to support our collective commitment and feature them here
Subaru is for kitten rescue - MaryBeth D
One Love Animal Rescue is honored and blessed to be a Chatham Parkway Subaru partner. Their donations helped us save more than 700 lives this year. They also provide an amazing and inviting space to host adoption events with wrap-around marketing support. But what they do for these pets doesn't stop there. This past September, an employee found 2 kittens who had hitched a ride into the dealership with a client. Our friends at Subaru knew that they needed intensive support. So, they jumped into action and contacted us for help. While we coordinated with our foster team for pick-up and placement, the team at Subaru set the kittens up in a warm, dry and safe place, and they cared for them until we got there. We are happy to report that both kittens were adopted into forever homes in time for the holidays.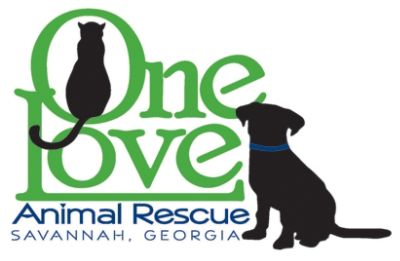 ---
Fall in Love Adoption Event Success - MaryBeth D
Through our partnership with Chatham Parkway Subaru, we hosted a Fall in Love adoption event on October 15th. We brought 10 adoptable pets to the event in Savannah, GA. It was an amazing turnout with several families coming to meet our lovable pets because they heard about the event through social media or on the radio. After hearing we were onsite on the radio, one family stopped in to meet some of our puppies. They fell in love with our adorable Agent Carter whose five siblings had been adopted weeks earlier, yet she remained. They held and played with her for over an hour. We were delighted when they submitted the adoption application. She's now in her forever home with a wonderful family and sweet young girl who wants desperately to take her to the beach. Our partnership with Chatham Parkway Subaru makes so many stories like this happen throughout the year. They support us not only with donations but wonderful marketing. One Love Animal Rescue and of course, the pets in our care are beyond grateful for the support. The dogs especially enjoy the Chewbaru WRX!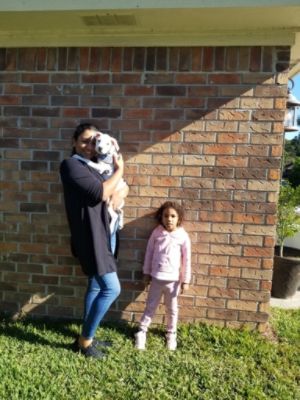 ---
Kendra Demps - Excellent Salesperson - L Mark H
I just bought a new Legacy Subaru from Chatham Parkway Subaru. My salesperson was thoughtful and graceful! You are blessed to have such a fine person be in your showroom. Malcolm and Mark were also pleasant. Thanks, Mark Haddad
---
Sasha: A Love's Promise Story - MaryBeth D
Sasha's story is one of heartbreak, resilience, and love's promise. She came to One Love Animal Rescue after a Good Samaritan spotted her being beaten with a weed whacker. When she came to her foster home, she was 30 pounds underweight with her backbone and ribs showing and had zero light in her eyes. One Love also learned that she was heartworm positive. The road to recovery was long but Sasha realized she was loved instantly. She had no ill will toward humans and was happy to give "Sasha Snuggles" and be a part of the family. Sasha is now a healthy 58 pounds, heartworm free, and living the good life with her forever family. Without the support of our community and our partners at Chatham Parkway Subaru, we would not be in a position to save dogs like Sasha. We are incredibly grateful for and humbled by your support.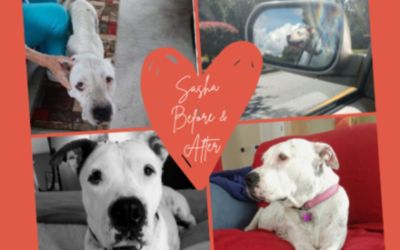 ---
Helping Underdogs Become Wonderdogs - MaryBeth D
We are so grateful for the support of Chatham Parkway Subaru. Over the past year, One Love Animal Rescue has cared for 55 heartworm positive dogs, 9 seniors with special needs, 3 dogs requiring extensive dental surgeries, several dogs suffering from mange infections and many other medical cases which makes our mission challenging but so much more important. By being a partner with Chatham Parkway Subaru for National Make A Dogs Day, we will be able to continue helping those who needs us most.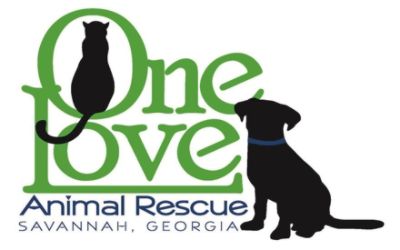 ---
One Love Animal Rescue Covid-19 Rescue Mission - Karrie B
We are humbled and grateful to Chatham Parkway Subaru for their generous support as we continue the mission to find loving homes for the neglected and homeless cats and dogs in our area. In these uncertain times, we know that one thing for certain, the pets of our region need us more than ever. At the start of the COVID 19 pandemic, One Love Animal Rescue (OLAR) took in 107 animals in just two weeks going through 2000 pounds of food and taking on two dogs with broken legs, 14 heartworm positive dogs, and three mange cases. Since that time, the calls for help have not stopped. With Chatham Parkway Subaru's donation of $18,173.86 we can continue to answer those calls.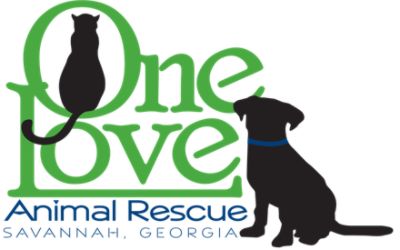 ---
Helping Feed Our Client's Pets - Anne C
In December, Malcolm Williams and Jahsiland Hampton of Chatham Parkway Subaru spent an evening helping us to collect pet food for our Meals on Wheels clients. The pet food drive yielded more than 80 pounds of pet food and treats valued at more than $150.00. Even better the event spurred another group to donate more than 237 pounds of dog food, 15 pounds of cat food, 2 cases of cat food and lots of treats. The food came at time when our stock was running low.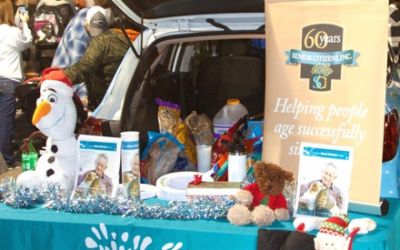 ---
Out of this World - Anne C
Mr. Harold Lindsey has been a dedicated Meals on Wheels driver for 15 years. A retired longshoreman for 37 years, he became a driver with Senior Citizens, Inc.'s Meals on Wheels in Savannah, GA. He loves driving the 2018 Subaru Outback to deliver meals to volunteers, who take them on to their final destination - the homes of home-bound seniors. "It's out of this world that Subaru would donate a car. It's unusual to give away a car like that," he said. "It's excellent driving." Over the past two years, this Subaru has delivered more than 75,000 nutritious meals. That doesn't count meals with non-perishable foods that can be used during times of bad weather such as hurricanes. That's what Mr. Lindsey was delivering along with his normal deliveries the day we caught him to chat for a few minutes.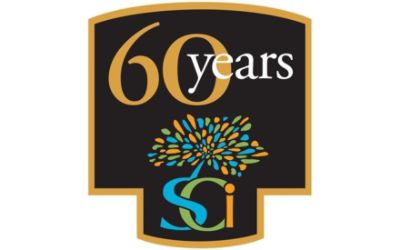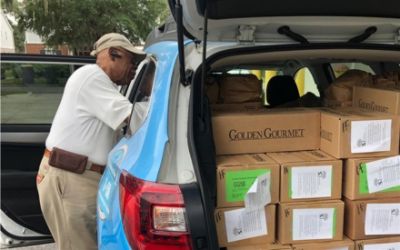 ---
Subaru Loves to Care with LLS - Lauren M
On June 20, 2019 the Georgia chapter of The Leukemia & Lymphoma Society and Chatham Parkway Subaru had the pleasure of delivering 80 blankets and arts & craft kits to Memorial Health and Anderson Cancer Institute as part of the Subaru Loves To Care program. These comforting gifts were accompanied by personalized messages of hope written by the customers and staff of Chatham Parkway Subaru.This incredible act of generosity was warmly received by Memorial Health staff who were thrilled to distribute these comforting gifts to their patients. LLS is proud to partner with Subaru to spread hope, love and warmth to those fighting cancer, across the country and right here in the Savannah, GA community. Many thanks to everyone at Chatham Parkway Subaru and Memorial Health, not only for a memorable day, but for supporting LLS's mission to cure blood cancers and improve the quality of life of patients and their families.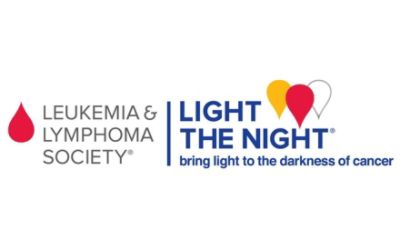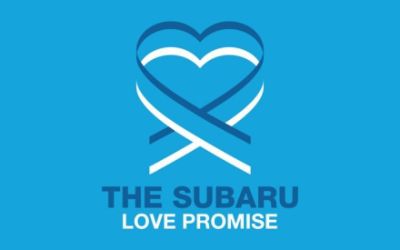 ---
Subaru and One Love Animal Rescue - Karrie B
One Love Animal Rescue of Savannah, Georgia extends a humble THANK YOU to Chatham Parkway Subaru for supporting our rescue efforts in 2019! OLAR was a recipient of a donation to the rescue in the amount of $6,999.05. This generous donation will be used to provide much needed care to some of our medical fosters, like: Queenie, a true survivor! Queenie was rescued from the shelter needing a double FHO surgery. While healing from her first surgery, she started retaining fluid and labored breathing. Rushed into the emergency vet to find a diaphragmatic hernia with her liver and gallbladder next to her heart. Not equip to do the surgery locally; she was rushed to the emergency vet in Charleston where she underwent a risky surgery to save her life. These efforts do not come cheap as it cost us almost $8000. She just completed her second FHO surgery and we are ready to get this girl on her final road to recovery Beaux was surrendered to us after his bit into a live dryer wire, erupting his teeth, blowing off parts of his lips and tongue and blowing 3 holes in the roof of his mouth. He had a severely burnt down his throat and tongue. When brought into the vet, the original owners refused to pay the office visit so Beaux went home, in extreme pain and suffering and weathered this on his own. We took him into our care when he started developing infections and an advocate for him pleaded for the owners to give him up. We have been working on his care since November of 2018 and local oral surgeons have not dealt with a hole this large the roof of a mouth. We have started from square one teaching Beaux how to eat and drink slowly not to flood his sinus. He has underwent already 4 surgeries to clean up his mouth, pull teeth and flush his sinuses for dead and decaying teeth and tissue. He is now on the search for his forever loving home! Bailey who needed her leg amputated after she was found on the side of the road nursing her puppies with a mangled leg, fighting for survival and survival on her 4 puppies Ralph, Penelope, Brunner, Jack, Ranger, Cooper, Mama Mia and Millicent with heartworm treatment Our senior dogs needing extensive dentals Bugatti and Blue, our blind dogs – Bug who suddenly lost his sight due to SARDS and Blue, born without sight and was discardedat the kill shelterBug Blue Just a few of our many special needs. Without the most generous assistance from Subaru, not as many can receive the medical care needed in a timely manner to set them up for adoption success. OLAR fondly looks forward to a continued alliance with Subaru in the years to come. Share the love and make a memorable impact on these precious lives!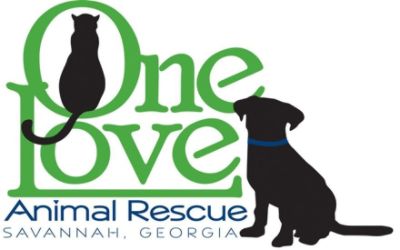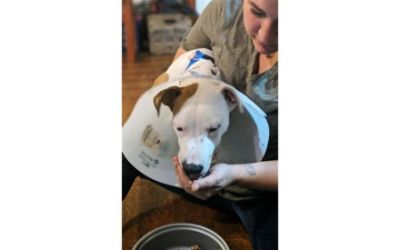 ---