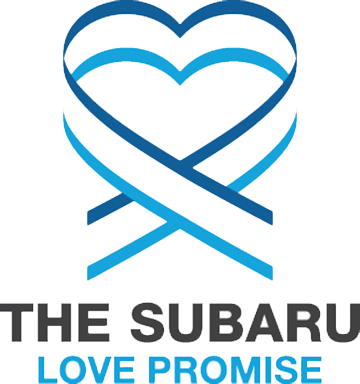 What is the Subaru Love Promise?
Subaru and our retailers believe in making the world a better place and the Subaru Love Promise is our vision of respecting all people. This is our commitment to show love and respect to our customers and to work to make a positive impact in the world.
How is Chatham Parkway Subaru dedicated locally to the Love Promise?
Our Love Promise can be seen in various partnerships with local charities and non-profits. We're grateful for the opportunity, not only to be a part of our community, but to serve it as well.
Love Promise Stories from Chatham Parkway Subaru
Subaru and Chatham Parkway Subaru believe in making a positive impact on the communities in which we live and work. We uphold that belief through our Love Promise Community Commitment. Every month, we select inspiring stories from customers and partners from around our area who strive to support our collective commitment and feature them here
Sasha: A Love's Promise Story - MaryBeth D
Sasha's story is one of heartbreak, resilience, and love's promise. She came to One Love Animal Rescue after a Good Samaritan spotted her being beaten with a weed whacker. When she came to her foster home, she was 30 pounds underweight with her backbone and ribs showing and had zero light in her eyes. One Love also learned that she was heartworm positive. The road to recovery was long but Sasha realized she was loved instantly. She had no ill will toward humans and was happy to give "Sasha Snuggles" and be a part of the family. Sasha is now a healthy 58 pounds, heartworm free, and living the good life with her forever family. Without the support of our community and our partners at Chatham Parkway Subaru, we would not be in a position to save dogs like Sasha. We are incredibly grateful for and humbled by your support.
---
Helping Underdogs Become Wonderdogs - MaryBeth D
We are so grateful for the support of Chatham Parkway Subaru. Over the past year, One Love Animal Rescue has cared for 55 heartworm positive dogs, 9 seniors with special needs, 3 dogs requiring extensive dental surgeries, several dogs suffering from mange infections and many other medical cases which makes our mission challenging but so much more important. By being a partner with Chatham Parkway Subaru for National Make A Dogs Day, we will be able to continue helping those who needs us most.
---
One Love Animal Rescue Covid-19 Rescue Mission - Karrie B
We are humbled and grateful to Chatham Parkway Subaru for their generous support as we continue the mission to find loving homes for the neglected and homeless cats and dogs in our area. In these uncertain times, we know that one thing for certain, the pets of our region need us more than ever. At the start of the COVID 19 pandemic, One Love Animal Rescue (OLAR) took in 107 animals in just two weeks going through 2000 pounds of food and taking on two dogs with broken legs, 14 heartworm positive dogs, and three mange cases. Since that time, the calls for help have not stopped. With Chatham Parkway Subaru's donation of $18,173.86 we can continue to answer those calls.
---
Helping Feed Our Client's Pets - Anne C
In December, Malcolm Williams and Jahsiland Hampton of Chatham Parkway Subaru spent an evening helping us to collect pet food for our Meals on Wheels clients. The pet food drive yielded more than 80 pounds of pet food and treats valued at more than $150.00. Even better the event spurred another group to donate more than 237 pounds of dog food, 15 pounds of cat food, 2 cases of cat food and lots of treats. The food came at time when our stock was running low.
---
Out of this World - Anne C
Mr. Harold Lindsey has been a dedicated Meals on Wheels driver for 15 years. A retired longshoreman for 37 years, he became a driver with Senior Citizens, Inc.'s Meals on Wheels in Savannah, GA. He loves driving the 2018 Subaru Outback to deliver meals to volunteers, who take them on to their final destination - the homes of home-bound seniors. "It's out of this world that Subaru would donate a car. It's unusual to give away a car like that," he said. "It's excellent driving." Over the past two years, this Subaru has delivered more than 75,000 nutritious meals. That doesn't count meals with non-perishable foods that can be used during times of bad weather such as hurricanes. That's what Mr. Lindsey was delivering along with his normal deliveries the day we caught him to chat for a few minutes.
---
Subaru Loves to Care with LLS - Lauren M
On June 20, 2019 the Georgia chapter of The Leukemia & Lymphoma Society and Chatham Parkway Subaru had the pleasure of delivering 80 blankets and arts & craft kits to Memorial Health and Anderson Cancer Institute as part of the Subaru Loves To Care program. These comforting gifts were accompanied by personalized messages of hope written by the customers and staff of Chatham Parkway Subaru.This incredible act of generosity was warmly received by Memorial Health staff who were thrilled to distribute these comforting gifts to their patients. LLS is proud to partner with Subaru to spread hope, love and warmth to those fighting cancer, across the country and right here in the Savannah, GA community. Many thanks to everyone at Chatham Parkway Subaru and Memorial Health, not only for a memorable day, but for supporting LLS's mission to cure blood cancers and improve the quality of life of patients and their families.
---
Subaru and One Love Animal Rescue - Karrie B
One Love Animal Rescue of Savannah, Georgia extends a humble THANK YOU to Chatham Parkway Subaru for supporting our rescue efforts in 2019! OLAR was a recipient of a donation to the rescue in the amount of $6,999.05. This generous donation will be used to provide much needed care to some of our medical fosters, like: Queenie, a true survivor! Queenie was rescued from the shelter needing a double FHO surgery. While healing from her first surgery, she started retaining fluid and labored breathing. Rushed into the emergency vet to find a diaphragmatic hernia with her liver and gallbladder next to her heart. Not equip to do the surgery locally; she was rushed to the emergency vet in Charleston where she underwent a risky surgery to save her life. These efforts do not come cheap as it cost us almost $8000. She just completed her second FHO surgery and we are ready to get this girl on her final road to recovery Beaux was surrendered to us after his bit into a live dryer wire, erupting his teeth, blowing off parts of his lips and tongue and blowing 3 holes in the roof of his mouth. He had a severely burnt down his throat and tongue. When brought into the vet, the original owners refused to pay the office visit so Beaux went home, in extreme pain and suffering and weathered this on his own. We took him into our care when he started developing infections and an advocate for him pleaded for the owners to give him up. We have been working on his care since November of 2018 and local oral surgeons have not dealt with a hole this large the roof of a mouth. We have started from square one teaching Beaux how to eat and drink slowly not to flood his sinus. He has underwent already 4 surgeries to clean up his mouth, pull teeth and flush his sinuses for dead and decaying teeth and tissue. He is now on the search for his forever loving home! Bailey who needed her leg amputated after she was found on the side of the road nursing her puppies with a mangled leg, fighting for survival and survival on her 4 puppies Ralph, Penelope, Brunner, Jack, Ranger, Cooper, Mama Mia and Millicent with heartworm treatment Our senior dogs needing extensive dentals Bugatti and Blue, our blind dogs – Bug who suddenly lost his sight due to SARDS and Blue, born without sight and was discardedat the kill shelterBug Blue Just a few of our many special needs. Without the most generous assistance from Subaru, not as many can receive the medical care needed in a timely manner to set them up for adoption success. OLAR fondly looks forward to a continued alliance with Subaru in the years to come. Share the love and make a memorable impact on these precious lives!
---
The Extra Mile - Anne C
We wanted to bring our 2018 Subaru Outback to the Meals on Wheels Conference in Charlotte, but taking the vehicle out of our fleet meant we would have to find another way to deliver the meals that the Subaru normally does. We reached out to our friends at Chatham Parkway Subaru, and they readily said they would help. Help they did. They took care of getting our Subaru ready for the trip to Charlotte and loaned us a brand new Subaru Outback to use for our meal deliveries at no charge to us. This kindness was truly appreciated. The dealership's generosity made it possible for more than 200 meals to be delivered and allowed us to have the vehicle as part of the display at the Meals on Wheels Conference. A very special thanks to Malcolm Williams and Leon Bryant for making this happen.
---
Special Delivery - Anne C
Our 2018 Subaru Outback has a regular routine of delivering meals to drop off points, but recently it made special deliveries of shelf stable meals. Living on the coast, we like to make sure our homebound seniors have ready to eat meals for hurricane season in case we cannot get to them to deliver a meal or if there is an evacuation. These meals with frosted mini-wheats, beef lasagna, chicken stew, raisins, juice boxes, honey graham crackers, and animal crackers require no refrigeration. They are quite popular with our seniors and every Meals on Wheel client gets one of these. Our 2018 Subaru Outback was part of the fleet that delivered them.
---
My Subaru Ride with Mr. Lindsey - Anne C
Story by Malasia McIvory This summer I had the pleasure of accompanying Mr. Lindsey on his meal drop-off and delivery routes for the Meals on Wheels program. I was already excited because it was my first time in the 2018 Subaru Outback donated by Subaru of America as part of its 50 Years 50 Cars Celebration. Mr. Lindsey is the designated Subaru driver. When I met him at the SCI Kitchen, he was loaded and ready to roll. He explained that it was important that he stayed on schedule so that the meals would be delivered within a required timeframe. Once we got on the road, we made light conversation and listened to music. The conversation flowed as I grew curious about the daily operations of the Meals on Wheels program and Mr. Lindsey was very open to informing me about it. I learned that there are multiple drop-off locations in Savannah and neighboring counties and that the coolers have to be dropped off at specific times depending on the distance from the kitchen. If the meals are not delivered within the time frame, then the meals will not be any good. So it is imperative that the routes are efficient to utilize all resources and minimize waste. Mr. Lindsey's meal drop off route had four stops: Skidaway Island, Isle of Hope, and two on Southside. I watched Mr. Lindsey place the coolers inside the pickup stops and check that the delivery sheets matched the number of meals inside the coolers each time. Before leaving, he made sure that a volunteer was on the way to pick up the coolers and deliver the meals to their final destination, homebound seniors. As we did the delivery route, we talked about volunteers and how important they are to the program. There are over a thousand meals delivered daily so the help of volunteers is vital. Without them, delivering meals will be difficult and it would be hard to service a lot of seniors. Occasionally when he drops off coolers, he gets to see the volunteers. Mr. Lindsey told me about this one particular volunteer who is always waiting for him. She always asks him how he's doing and if there are any new clients. We also talked about the Subaru itself. Mr. Lindsey's favorite part of the Subaru is the smooth ride and that it's a nice driving car. My favorite part about the Subaru is the exterior design. I liked the bright color and the Meals on Wheels logo on the sides. The design of the Subaru highlights the Meals on Wheels program and serves as a great marketing tool. I had a great experience with Mr. Lindsey in the Subaru. His patience and diligence were rewarding to watch. Malasia McIvory, a junior at Valdosta State University and Savannah resident, was a part of the City of Savannah's Summer 500 Program. Sponsored by Georgia Power, she worked for eight weeks at Senior Citizens, Inc. (SCI) learning about non-profit operations.
---