The 2019 Subaru Forester from your local Subaru dealership near Beaufort, SC is comfortable, practical, with plenty of room for adventure— all elements of the ideal crossover.
The Forester is one of Subaru's most popular models, and the automaker successfully preserved its defining traits while infusing it with more refinements and technology. It's a versatile SUV that will take you from the daily commute to weekend escapades with ease.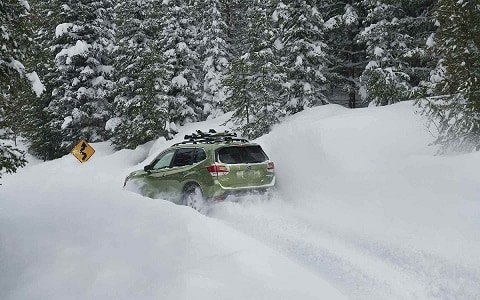 Responsive to Your Driving Needs
The 2019 Subaru Forester anticipates your needs. This is an intelligent car with innovative features like the DriverFocus Distraction Mitigation System. Too tired to drive after a long day at work? This system will provide an alert when it recognizes that the driver is drowsy or distracted to help you concentrate on the road.
The Forester is also equipped with a suite of safety technologies to protect you no matter the driving situation. The Blind-Spot Detection system will visually and audibly warn you of any vehicle that's in your blind spot. Reverse parking is now easier and safer with the Rear-Vision Camera and Rear Cross Traffic Alert. In the event of possible contact with an object behind the car, the optional Reverse Automatic Braking allows the Forester to stop itself, helping to prevent a collision.
Subtle Redesign, Big Impact
The 2019 Subaru Forester maintains its unique, boxy look that shows off its supreme practicality. The exterior may look familiar, but buyers win big thanks to its design updates.
The wheelbase is now longer, which translates to more legroom. You also get amazing visibility with the large windshield. To increase cargo capacity, the rear end is now better squared off, and with a 4.3 foot opening (the widest in its class), the tailgate now closes much faster than the outgoing model as well.
Warm and Inviting
Inside the Forester is a cabin that's filled with thoughtful details. It's extremely spacious, and the displays are modern but easy to use. If you want a little more flair inside, the Sport trim boasts orange accents and contrasting stitching. The Touring trim takes it to a luxurious level with rich, brown leather.
All seats are supportive and firm and will keep everyone comfortable even during long rides. Base model Foresters offer generous standard features such as automatic climate control, an infotainment system with Android Auto and Apple CarPlay, active lane control, adaptive cruise control, and more.
You can also outfit your Forester with optional details such as a 10-way power driver's seat, remote start, tinted windows, illuminated vanity windows, heated seats and steering wheel, an 8-inch touchscreen, and other features that add up to a well-equipped and indulgent ride.
Get a Feel of the 2019 Subaru Forester
The 2019 Subaru Forester packs plenty of excitement with its well-isolated ride and great acceleration. The CVT behaves smoothly, and it helps you maximize horsepower. The Forester is surprisingly green too— the EPA rated it at 29 mpg combined, which means that you get more in the tank compared to most rivals.
On paper, the 2019 Subaru Forester looks like a fantastic SUV, and it's even better in reality. Get behind the wheel of the all-new 2019 Subaru Forester right here at Chatham Parkway Subaru. Contact us through this link and schedule a test drive today!