The 2019 Subaru Ascent from your local Subaru dealership serving Hilton Head, SC enters a red-hot SUV market ready to go head-to-head with its key rivals. It serves up spacious interiors, assured performance, and advanced safety tech that'll take the family from city to mountains without hesitation.
Add the many clever and useful features like a bird-watching app and 19 cupholders, and SUV shoppers will find it impossible to look elsewhere.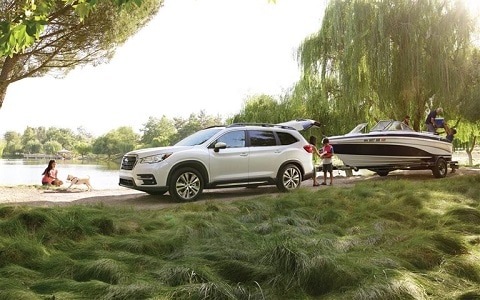 2019 Subaru Ascent Makes a Grand Entrance
The 2019 Subaru Ascent is the largest vehicle offered by Subaru today, but it doesn't bank on its size to get your attention. Its prominent grille, large headlamps, chunky roof rails, and large glass area make a strong first impression. The 2019 Ascent rides high on 20-inch wheels standard on the Limited and Touring trims, which also get exclusive fog lights and steering-responsive headlights.
No Shortage of Power
A three-row SUV like the 2019 Subaru Ascent can't have too much power— it must be able to carry its standard eight passengers and their gear, tow up to 5,000 pounds, and navigate towns or mountain roads with ease, all at the same time. The brand-new 2.4L turbocharged flat-four engine steps up to the plate with 260 horsepower and 277 lb.-ft. of torque.
Even at maximum capacity, the 2019 Ascent delivers a beautifully composed ride capable of reaching 60 mph in just 7.4 seconds. The CVT is so smooth it's almost undetectable, but it's always responsive with light steering.
Finally, standard X-Mode, standard All Wheel Drive, and high ground clearance team up to make the 2019 Subaru Ascent as masterful off-road as it is on the pavement.
Ground-breaking EyeSight System
There's a full complement of driver assists in the 2019 Subaru Ascent, and all trims get the much-praised EyeSight System as a standard feature. It offers lane departure warning with assist, forward collision warning with emergency braking, sway warning control, adaptive cruise control, and more.
Subaru has also added clever, advanced features like the exclusive Lead Vehicle Start Alert. Should you ever get distracted, you'll be alerted the moment other vehicles in front of you start moving. The dashboard continuously displays EyeSight's status so drivers know exactly what's happening as they drive.
Nonstop Connectivity
Always stay connected onboard the 2019 Subaru Ascent with 4G Wi-Fi, navigation by TomTom, Android Auto, Apple Carplay, and SiriusXM Traffic and Travel Link. Available as well is the StarLink infotainment system that allows the use of cloud applications such as streaming audio, parking information, news, and connected search.
The 2019 Ascent is not without its fun quirks. Love birds? StarLink has an interesting, crowdsourced bird-watching app called eBird. It tells you which species might be present in a given location and where to look for them. Take friends with you, slide down the optional panoramic moonroof, and go on an avian adventure.
The 2019 Subaru Ascent corrects many shortcomings of its three-row predecessors. In the process, Subaru has created a modern SUV with serious chops that is practical, well-appointed, and a complete joy to drive. Get a feel for the 2019 Subaru Ascent by scheduling a test drive with Chatham Parkway Subaru today!