The 2019 Subaru Forester from your Subaru dealership near Hilton Head, SC is the latest iteration of the biggest selling compact SUV. It's now loaded with more advanced amenities but still keeps its adventurous spirit intact. Whether you're a weekend warrior or a lifelong adventurer, there's bound to be something for you in this vehicle.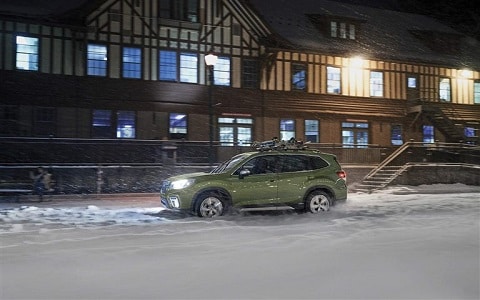 Appearance as Tough as Ever
The 2019 Subaru Forester still has that well-contoured body, designed like a hunter on the prowl. Out front, the signature Forester grille remains majestic, bookended by LED steering responsive headlights that keep your attention on the road.
On the sides, the 18-inch aluminum alloy wheels mean business, with the 225 all-season tires providing the perfect armor. In addition, the ground clearance of 8.7 inches assists the vehicle as it moves through every kind of terrain.
The panoramic power moonroof is not just gorgeous; it can also reduce 95% UV light inside the cabin, protecting you and your passengers from harmful exposure. The raised roof rails add a finish that has the best aesthetic appeal of any compact SUV. Keeping this all in place is a high strength steel body structure that guarantees enhanced crash safety and a more peaceful interior.
Performance at a Higher Level
With every new generation, this vehicle increases a notch in performance, and the 2019 Subaru Forester is no exception. Subaru's updated Boxer engine is standard on all models, packing in more direct-injected power than ever before.
The Boxer can generate up to 182 horsepower and 176 lb. ft. of torque alongside a quiet continuously variable transmission (CVT). The icing on the cake is the symmetrical all-wheel drive, providing for an evenly balanced journey on any terrain.
The active safety features also get outstanding upgrades. Subaru's EyeSight Driver Assist Technology is standard on all models, giving you an extra set of eyes in whichever Forester you choose. A suite of features such as Adaptive Cruise Control, Pre-collision Braking System, Lane Departure and Sway Warning, and Lane Keep Assist are all the technology you need for a grueling city commute or a Smoky Mountain drive.
Comfort on Your Journey
While an adventurer on the outside, the 2019 Subaru Forester is homey inside. The leather and cloth seat options are equally eye-catching and pleasing to the touch. The cabin is more spacious than ever, while the front seats ensure that you remain comfortable even in extreme off-roading situations. Thanks also to the longer wheelbase of 105.1 inches, rear passengers get more comfortable legroom.
Loading up on cargo is also easy, with the Forester having 35.4 cubic feet of cargo space behind the rear seats. For a solo camping trip, you can get up to 76.1 cubic feet of cargo space by folding the 60/40 split fold rear seats. A wider rear gate opening is also available for hassle-free loading.
Inspired Infotainment
While driving out to a campsite, SUV riders want to be entertained and this is what Subaru does best with its trademark Starlink infotainment system in the Forester. Its intuitive touchscreen is more functional than ever, offering up to 8 inches of navigation and high-resolution LCD display.
Syncing your smartphone via Apple CarPlay and Android Auto just got better, as you can make hands-free calls and messages or blast your playlist over the Forester's crisp Harman Kardon speakers.
Subaru Starlink also ups the ante for infotainment, giving you access to its cloud-based applications. If you want something apart from your playlist, you can easily access iHeart Radio and SiriusXM All Access Radio for fresh new sounds. Navigating toward your hilltop house is also made easier with the Sirius XM Traffic app, allowing you to check traffic flows, road construction, and accident locations along the way.
The Adventure of a Lifetime
With improved performance and state-of-the-art amenities and technologies, the 2019 Subaru Forester from your Subaru dealership near Hilton Head, SC fortifies its claim as the best compact SUV. It is, without a doubt, the vehicle every serious explorer must have. Contact Chatham Parkway Subaru and ask for a test drive now! Click here to view our 2019 Subaru Forester inventory.