The 2019 Subaru Crosstrek from your Subaru dealership serving Beaufort, SC is the complete subcompact SUV package you've been waiting for. It is comfortable on-road but transforms into an off-road ride at the drop of a hat.
This model year sees the Crosstrek with a lot more driver-assistance features plus a higher level of refinement. Add on its long tradition of reliability, practicality, and high-resale values, and the 2019 Subaru Crosstrek just gets better with time.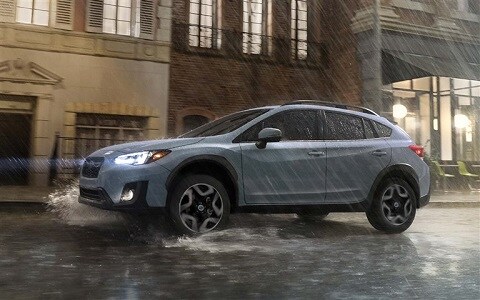 Explore without Hesitation
The 2019 Subaru Crosstrek features a capable 152-horsepower 2L flat-four engine across all trims. Sharp, accurate steering and excellent handling define its performance. On highways speeds, the Crosstrek offers very good tracking. For commuting and driving down long stretches of road, the 2019 Subaru Crosstrek is a skilled operator.
However, off-road is where the 2019 Crosstrek truly shows what it's made off. Off-road capabilities begin with standard All-Wheel Drive on all models, which provides control over any terrain. There are 8.7 inches of ground clearance and a high driving position for better visibility. Special features offering more control while off-roading include X-mode traction control and hill-descent control for when the road gets steep.
Welcome to a Hybrid Option
For those looking for an eco-friendly alternative, the 2019 Subaru Crosstrek hybrid is now available. Its all-electric range runs up to 17 miles, perfect for those short commutes. In total, it has a 480-mile range plus 35 mpg, representing significant energy savings.
Since the Hybrid is based on the top-tier Limited trim, it hosts plenty of nice features such as an 8-inch StarLink infotainment screen, leather seats, and heated front seats. Safety technology includes automatic high beams, adaptive cruise control, lane keep assist, collision-mitigation braking, and cross-traffic alert.
Some optional luxury features include the Harman Kardon premium audio system, heated steering wheel, embedded navigation, and a sunroof for a fully tricked out hybrid crossover.
Absolutely Safe
Subaru has a solid reputation for safety, and the 2019 Subaru Crosstrek is no exception. It earned stellar scores from crash tests and boasts wider availability of advanced safety gear.
CVT versions of the Crosstrek now feature active lane control, adaptive cruise control, automatic emergency braking, and lane departure warnings. The IIHS awarded the Crosstrek its Top Safety Pick designation for the 2019 model year. If you add the standard LED headlights to the Crosstrek Limited, the IIHS upgrades that rating to the honored Top Safety Pick.
In NHTSA testing, the 2019 Subaru Crosstrek did equally well by snagging an overall five-star rating in crash tests, making it an extremely safe vehicle from all angles.
Comfortable Utility
Accommodating five passengers plus a full load of cargo is an easy feat for the 2019 Subaru Crosstrek. Need to take more for that weekend getaway? Pile your gear and equipment on the standard roof rack after filling up 50 cubic feet of cabin storage with the rear seats down.
Chatham Parkway Subaru has all the details on the latest 2019 Subaru Crosstrek, and we'd love to take you for a test drive! Click to visit us and for a test drive, financing options, or other general information.