Brace yourself as the 2019 Subaru Outback from your local Subaru dealership near Hilton Head, SC is redefining adventure and leisure driving as you currently know it. If you're the work-hard, play-hard type, the 2019 Subaru Outback is the vehicle you've been waiting for. With large upgrades in terms of performance, plus new infotainment features and active safety features, the Outback is the crossover that will allow you to experience driving to the fullest.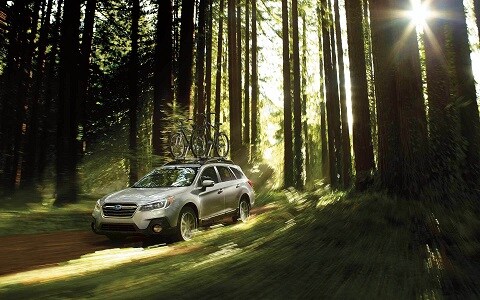 Safety Advancements
As a pioneer in the "adventure wagon" class, the Subaru Outback places a premium on safety. In 2018, the Outback's reliable airbag and seatbelt system, along with its LED Steering Responsive Headlights have helped it acquire the IIHS Top Safety Pick award. The features are carried over to the 2019 edition, so expect the same high standard of safety.
What's more is that the safety experience is enhanced with the Subaru Eyesight and Starlink active safety systems. The systems come packed with numerous features, such as Automatic Collision Notification, Blind Sports Detection with Lane Change Assist and Rear Cross-Traffic Alerts, plus Reverse Automatic Braking. With Subaru's improved safety technology, driving has definitely become more worry-free.
Infotainment and Interior Heaven
The 2019 Subaru Outback offers an interior familiar to every Subaru enthusiast, but has been made even better. Whether it's the cloth trimmed upholstery on the standard versions, or the lush leather-trimmed upholstery on Limited and Touring trims, you'll be completely enamored. Should you also need to fit extra cargo in your vehicle, you can instantly adjust the rear seats via special fold-down levers to unlock 73.3 cubic feet of cargo space.
Apart from Subaru's trademark steering wheel, which is one of the best ever designed, the Outback's infotainment is a wonder to behold. In the center of the dashboard is an 8-inch touchscreen which can respond to pinch and swipe gestures, like that of a smartphone. You can now integrate your smartphone seamlessly to the screen via the Apple CarPlay and Android Auto apps, making calling, messaging, and connecting to the internet on the road a breeze. You're also guaranteed to have an unforgettable audio experience via the 12-speaker system by Harman Kardon on the upper trims.
Lastly, USB ports are located in key areas so you can charge your devices while on the go.
Handsome Exterior
The exterior of the 2019 Subaru Outback has the familiar façade of a station wagon, but with an SUV aura. This is perfect for evoking a balance between a rugged and homey image for the vehicle. All Outback vehicles also come standard with roof rails, which add to the aesthetic as much as the utility aspect. For those who like a dose of sunlight or a view of the night sky while traveling, a moonroof option is available for the Outback's higher end trims.
The vehicle also comes with 8.7 inches of ground clearance, which is perfect for your urge to go off-road and explore dirt paths. Exploring the rough road becomes more enjoyable with the Outback's specialized wheels and all-season tires combo. Standard trims come with 17 x 7-inch aluminum alloy wheels with silver finish, while the Limited and Touring editions come with the 18 x 7-inch aluminum alloy wheels with black and dark gray finish.
All Pumped Up
The Outback gives you that all- SUV feel, thanks to its specialized Subaru Boxer engine. All trims come standard with a 2.5i 4-cylinder Boxer, producing up to 175 horsepower and 174 lb-ft torque. Limited and Touring models also offer the 3.6R Boxer engine, which can manage up to 256 horsepower and 247 lb. ft. of torque. Either way, it helps to produce a symmetrical all-wheel drive capability at all trims.
Furthermore, the X-MODE (which is available in all trims) helps enhance the all-wheel-drive experience by optimizing engine output and transmission ratio. Fuel economy is also one of the best in its class, with the 2.5i engine producing an MPG of 32/25 for highway/city, and the 3.6R engine managing 27/20 MPG for highway/city.
With improved performance, packed tech features, and enhanced safety technologies, the 2019 Subaru Outback is the crossover you all deserve. Call Chatham Parkway Subaru to schedule a test drive now!