Drivers will be thrilled to learn the 2018 Subaru Forester Near Beaufort SC will get new features, but the price isn't expected to change by much. In fact, some drivers may choose to hold off buying until the new model appears so they can take advantage of the new technology that is expected. Safety scores continue to be outstanding, the vehicle offers the all-around versatility people expect from this manufacturer, and the interior space should please all. Overall, this vehicle offers great value for the money and people will find it to be one of the class leaders in the crossover category. Anyone in the market for this type of car will definitely want to put the 2018 Subaru Forester on the list of models to test drive.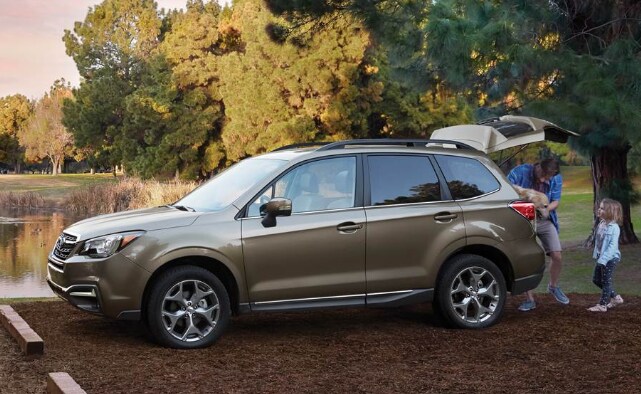 Individuals who take the time to visit Subaru dealers near Beaufort discover this vehicle offers the capability of a cross, the security of all-wheel drive, and a car's ride and handling. It is a very practical vehicle in every way, yet can take a person off road with ease. There are four trim levels to choose from: Base, Premium, Limited, and Touring, with each allowing drivers to find the one that best fulfills their requirements. Many experts state this vehicle is the best in its class, as it does have so much to offer, and the price is more than reasonable.
While the Forester isn't lacking in styling when compared to some of its competitors, drivers of a functional nature can take on any adventure without hesitation and do so in comfort. Furthermore, noise suppression has been a priority of Subaru over the past few years, and the interior space is more than enough even for rear seat occupants.
Subaru continues to offer two engines for the Forester. Individuals interested in buying the 2018 Subaru Forester in SC will choose from either the 2.5-liter flat-four engine or the 2.0-liter turbo-four engine depending on their desired level of performance. Most drivers select the standard continuously variable transmission, but a manual gearbox can be chosen on the base model. This vehicle continues to get excellent safety ratings, and experts predict one of the changes for the 2018 Subaru Forester Near Beaufort SC will be new additions to the EyeSight safety package.
Anyone in the market for a crossover should definitely check out the 2018 Subaru Forester and the price for the new version is expected to be very close to last year's model. Visit our dealership today to learn more about this vehicle, and you are sure to leave impressed. You'll see why so many are turning to us when they need a new car.