Drivers are eagerly anticipating the release of the 2018 Subaru Legacy near Beaufort SC. This vehicle has gotten an updated look for the new model year and, although it hasn't been completely redesigned, there will be a lot of new things to love. This includes an updated exterior and new connectivity options that are important to many drivers. Individuals looking to buy a new car in the coming months will definitely want to put the Subaru Legacy on their list of models to explore.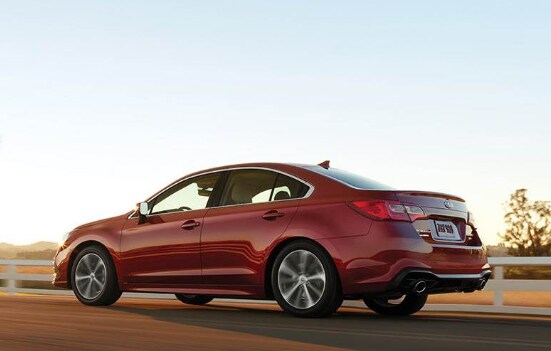 The Exterior
Drivers who visit a dealership to test drive the 2018 Subaru Legacy near Beaufort SC will immediately fall in love with the new look. The grille is now wider, and the headlights have been revised to provide the vehicle with a sporty look. Additionally, the daytime running lights are more dramatic looking and provide the car with a luxurious feel, something not often seen on a car designed to be driven every day. The rear of the vehicle hasn't been neglected either, as Subaru has elected to update the tailpipe so it now flows smoothly into the bumper.
The Interior
The Subaru Legacy near Beaufort SC has also undergone some interior changes. The windshield is acoustic, and the suspension system has been updated to ensure a quiet ride for the occupants of the car. In addition, the transmission has undergone modifications to contribute to the reduced noise level in the interior.
Premium materials have been used throughout the cabin. The infotainment system is now integrated with both Apple CarPlay and Android Auto, which drivers are sure to appreciate. Another thing to pay attention to when test driving this model is the redesigned console. It comes with an eight-inch touchscreen on certain trim levels.
Performance
Drivers want to know their vehicle can hold its own on the road, and the 2018 Subaru Legacy near Beaufort SC does so with ease. Drivers may choose a 2.5-liter, four-cylinder engine that provides 175 horsepower or opt for a 3.6R engine that features six cylinders and offers 256 horsepower. Both are paired with a continuously variable transmission to ensure smooth acceleration.
Safety
Subaru has earned an excellent reputation for providing safe vehicles, and this year's model won't disappoint. Drivers will have access to the manufacturer's Eyesight technology that has kept many safe. This technology offers features such as automatic emergency braking and lane-keeping assist.
Visit a dealership today to learn more about the 2018 Legacy. Many drivers will find this vehicle is exactly what they want and need. You won't know if this is true for you until you take it for a test drive. Do so today and you may simply fall in love.