At Chatham Parkway Subaru, we're you're leading source for the 2018 Subaru Forester near Hilton Head SC and are already making room for its arrival. First introduced to the U.S. market back in 1998, the Subaru Forester has risen through the ranks to become one of the nation's most sought-after options in the compact sport utility vehicle category. Now, gearing up to celebrate its 20th year on the U.S. automotive circuit, the Forester is ringing in the upcoming season with its latest version.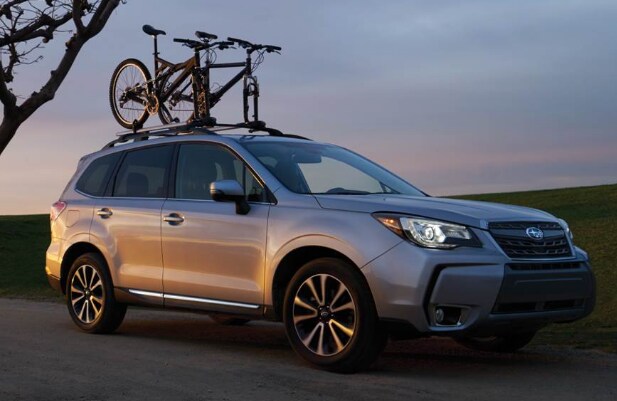 A Brief Overview of What's to Come
In light of the 2017 edition's extensive overhaul, a number of the previously integrated and highly acclaimed features are carrying over into the latest Forester to hit showroom floors. Technology, engineering, style, comfort and a spacious interior are only a few of the features you can look forward to if you're in the market for a 2018 Subaru Forester in SC.
Drive Train Choices
Standard equipment in the coming Forester includes a 2.5-liter, flat-four engine pumping out 170 horsepower. It's paired with a six-speed manual transmission on the base model, but upper echelon models offer an automatic, continuously variable option. Also available in the higher trim levels is a turbocharged 2.0-liter, 4-cylinder pulled along by the CVT transmission. With eight trim levels being offered, you'll have plenty of engine/transmission combinations to choose from for your Subaru Forester near Hilton Head SC. All-wheel drive comes standard across the board.
Interior Advancements
Premium audio/visual options are going to be on hand with the 2018 Subaru Forester, including a wide range of driver assist features and navigation courtesy of Subaru's signature STARLINK package as well as a premium sound system. You'll also have access to a 10-way adjustable driver's seat, heated steering wheel, leather upholstery, a panoramic moon roof, climate-controlled seating, and plenty of passenger and cargo space.
Efficiency and Safety
Fuel economy varies slightly based on the engine and transmission in question, but you can expect an average of up to 32 miles per gallon. Though crash test ratings haven't been released for the latest model, it stands to carry on the Subaru tradition of ultimate safety and security. Plenty of integrated safety features serve to boost its upcoming ratings.
With technology, style, efficiency, and power, as well as a long list of other bonuses, the upcoming Forester is sure to follow in the footsteps of its predecessors. We're expecting the latest models to arrive any day now, so your wait for the 2018 Subaru Forester near Hilton Head SC is almost over. Call Chatham Parkway Subaru at (888) 430-0231 or come by our dealership in person to see for yourself what places the new Forester in a class all its own.